Busola Oyediran and her boyfriend, Akebiara Emmanuel, have been charged by the Lagos State Government before the Ogba Magistrates Court for allegedly torturing and beating their two children, (names withheld) who are five and two years old, respectively.
The pair was charged on four counts: criminal assault with intent to do great bodily injury, unlawful infliction of injuries on a kid, unlawful and indecent treatment of a child, and unlawful assault using a belt, cane, and horsewhips.
The defendants appeared before Chief Magistrate (Mrs.) Bola Osunsami after allegedly committing the crimes in the Egbeda/Idimu region of the state where they reside.
The defendants pleaded not guilty to the charge and were granted bail in the sum of N500,000 each.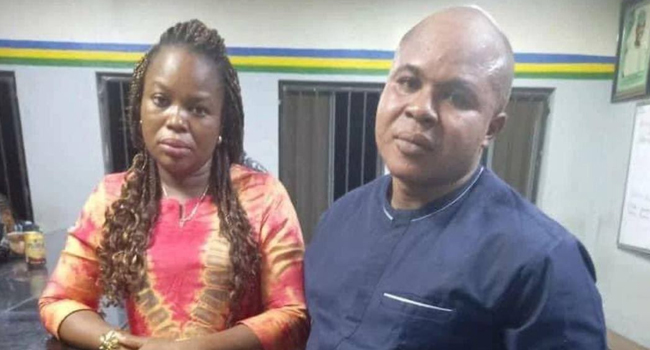 Chief Magistrate Osunsanmi also ordered that the duplicate case file should be sent to the Directorate of Public Prosecutions (DPP) for legal advice.
She then put the proceedings on hold until March 27.
In a statement issued by its Head of Public Affairs, Mrs. Adejoke Ladenegan-Oginni, the Domestic and Sexual Violence Agency (DSVA) stated that the Ministry of Youth and Social Development helped to arrange the children's current placement in protective custody.
Mrs. Titilola Vivour Adeniyi, the executive secretary of the DSVA, added that it was a mandated reporter's intervention that made sure the case was brought to the notice of the proper authorities, including the police at the Idimu Divisional Police Station, who promptly detained the pair.
According to her, the accused are suspected of abusing the two kids by beating them with belts, canes, and horse whips.