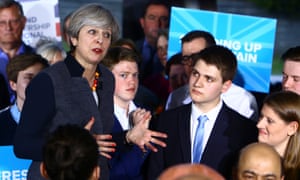 Theresa May was accused of hiding from residents on a Bristol housing estate and shutting reporters out of a factory visit in Cornwall, as the tightly controlled stage management of the Conservative election campaign came under scrutiny.
The prime minister addressed at a social club on a housing estate in Brislington in the Labour-held seat of Bristol East, where she urged voters in the south-west not to return to backing the Liberal Democrats.
However, residents of the estate were not invited and gathered outside waiting for a glimpse of May, while the audience inside was made up of Conservatives activists from across Bristol and South Gloucestershire.
It came after a furore over May's earlier visit to the marginal seat of St Ives in Cornwall, where the county's biggest news website was banned from filming the prime minister's visit to a factory.
Reporters from Cornwall Live complained that they were shut in a room to enforce the video ban while the prime minister was visiting a diving equipment factory in Helston.
The news website, which represents the Cornish Guardian, the Western Morning News and West Briton, said it was only allowed to ask two questions and that it had been told by No 10 that its multimedia reporter had only been invited as "print media" and was therefore not permitted to film the event.
Jacqui Merrington, the digital editor of Cornwall Live, said the restriction showed an old-fashioned attitude towards the media. "It feels like either contempt or a lack of understanding of what we do in the local press generally," she said. "You can't expect any local media to be entirely print-focused now and not have any digital element."
She said her media group had never experienced such an attempt by a political party to control journalists, adding: "This is certainly a different level in terms of restrictions. A number of us have had an experience with David Cameron and Tony Blair – this was much more restricted than we have seen in the past. David Cameron did a walk through the town with us in Penzance about three years ago. We were allowed full access to him for a 45-minute period."
Conservative campaign sources insist May has been meeting members of the public during the election campaign. She did some brief walkabouts elsewhere in Cornwall, as she visited seats such as St Austell and Newquay, she was pictured in Mevagissey somewhat uncomfortably eating chips and shaking hands with people in the street.
However, Labour leader Jeremy Corbyn highlighted that May's key speech of the day was once again made to an audience of Conservative supporters rather than ordinary members of the public. "Yet again, Theresa May hides from the public at a stage-managed event for party activists. What is she scared of?" he tweeted.
Labour have accused May of hiding by refusing to do television debates, and she has come in for criticism during the campaign for doing a series of events with local activists rather than with the general public.
Before May arrived in Brislington, Dean Jones, 26, secretary of the Hungerford Community Centure and Social Club, told the Guardian residents only knew about the event the night before and had not been invited to speak to May.
"We've only got one member of staff in there and I think we were told no one was allowed in so we had to rearrange a few things to suit them," said Jones, a swing voter who has previously backed Ukip but is now considering his options. "But it's a bit of business for us. We are struggling at the moment so maybe a few more people will know about it."
News of May's arrival had leaked out locally, attracting dozens of protesters from various anti-austerity and Labour groups shouted "Tory scum" at the prime minister as she arrived, joined by a few passersby who lived in the area.
The community centre was guarded by police, who warned some protestors against harassing Conservative activists, and the curtains were drawn as May gave a speech urging voters in the southwest not to be attracted back to the Liberal Democrats.
"The Liberal Democrats stand ready to prop up Jeremy Corbyn's coalition of chaos, to see the Brexit process stall and reopen the old battles of the past," she said. "It may say Lib Dem on the ballot but it's Jeremy Corbyn who will get the benefit. It was the south-west at the last election that made the difference between a strong majority government and a weak unstable coalition."
In relation to the Cornwall event, a party spokesman said: "One media organisation's last-minute request to add a camera to a pre-arranged pool of broadcast cameras was not possible this morning. The organisation's journalists did interview the prime minister and their photographer accompanied the prime minister on a factory tour.
"Theresa May has so far taken four times as many questions from journalists as floundering Jeremy Corbyn while his cabinet can't even answer basic questions about how they would pay for his nonsensical policies."
The prime minister's visit to the area comes amid concerns among some Tory MPs elected in 2015 that their seats could be at risk of returning to their former Lib Dem incumbents in remain-voting areas. Most of the south-west voted for Brexit but more urban areas, such as Bath and Cheltenham, leaned towards staying in the EU.
The Lib Dems were wiped out in the south-west in 2015, with the Conservatives holding 51 seats in the region and Labour just four, in Exeter and Bristol.
In the newspaper article, May urged former Lib Dem voters to stick with the Conservatives. "At the last election, voters here in the south-west were the difference between a strong, majority government and a weak, unstable coalition of Labour, the Liberal Democrats and the SNP," she said.
"The opposition parties are lining up to prop up Jeremy Corbyn and disrupt our Brexit negotiations – a recipe for years of drift and division at this crucial time."