Bodyswerving a particular monicker-based humiliation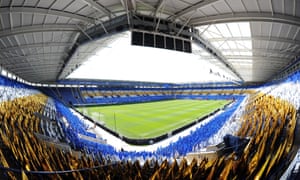 A MIDLAND MÉLANGE
The folks at Uefa have much to worry about at the moment. Did they really treat Borussia Dortmund properly? How to deal with the ongoing situation involving Bastia? And whatever to order?! Cheese soufflé and double cream, beef with wild mushrooms in a red wine jus, lard ice cream, café et petits four? Then, after breakfast, deconstructed club sandwiches, with the constituent parts of bread, chicken, bacon, tomato, mayonnaise and another slice of bread replaced by, in turn, foie gras, foie gras, foie gras, foie gras, a very thick slab of foie gras and some deep-fried battered foie gras? Decisions, decisions.
Yet perhaps the biggest problem of all involves Big Cup nomenclature, and how to rebrand the Round of Arsenal next season, now that Arsenal are – yes, yes, two goals at Middlesbrough – extremely unlikely to compete in next season's tournament. The Round of Manchester City? Too wordy. The Round Which Shouldn't Have A Name Because Whatever It Gets Called Sounds Awkward, Contrived, Appalling and Cynical? Too honest. The Round of 16? Too awk … look, just no. The Round of Futile Barcelona Comebacks? Well that's not going to fly every year, is it.
Whatever happens to Leicester City on Tuesday, at least they've bodyswerved that particular monicker-based humiliation, having made it to the quarter-finals in serene fashion, give or take a couple of Kasper Schmeichel penalty saves and 874 other close shaves. Craig Shakespeare, with a little help from Claudio Ranieri, has already achieved what this year was beyond Tottenham's Mauricio Pochettino, 1998's Arsène Wenger, and Lionel Messi's Pep Guardiola. And now he just needs to overturn Atlético Madrid's slender one-goal advantage to reach the semis. "We're at home, we need to be more forceful than we were," says the only Premier League manager not sat in front of the telly tonight with a curry, some tinnies, and a fag on.
Yes, it's a huge day for Shakespeare and Leicester. Yet they've rather had their thunder stolen by Theresa M … hold on … by midlands rivals Birmingham City, who in a desperate attempt to stave off relegation to the third tier, have handed 'Arry Redknapp a bucket and told him to get bailing quicksmart. "Birmingham are a proper football club," Redknapp Danny Dyered, "but they are in a precarious position. I haven't got a magic wand." This of course isn't the first time Blues have turned to an old-school managerial legend in their hour of need, having coaxed Sir Alf Ramsey out of retirement in 1977 with average results. Average results will probably be enough to save Birmingham this season, though it's worth noting that Ramsey was a former league and World Cup winner. Redknapp is the former manager of Southampton.
LIVE ON BIG WEBSITE
Join Scott Murray from 7.45pm BST for hot MBM coverage of Leicester City 0-2 Atlético Madrid (agg: 0-3), while Jacob Steinberg will be on hand for Real Madrid 2-2 Bayern Munich (agg: 4-3).
QUOTE OF THE DAY
"I know the history of this club. I'd played at the Goldstone Ground and I remember the times [ground-sharing] at Gillingham. But the good thing about this club is there are a lot of people still involved who were around through those tough times. But it still takes an investor like Tony [Bloom]. So it's a wonderful feeling for myself but more for a group of supporters and a club when you have a local investor who is prepared to put his own money into a club. Particularly in an era where most of the big investors are from overseas or consortiums" – Brighton boss Chris Hughton basks in the Seagulls' promotion to the Premier League.