Real Madrid boss Zinedine Zidane must decide whether to choose between Gareth Bale and Isco in what seems like his only selection issue ahead of Saturday's Champions League final.
Bale has not played since 23 April but is fit, while in-form Isco has scored five goals in his last eight games.
"They're both very important players and everyone can give their opinion but it won't influence me," said Zidane.
Cristiano Ronaldo's four-year reign as UEFA Champions League season top scorer looked over going into the quarter-finals, but now he needs just one goal in Cardiff to catch Lionel Messi.
Cristiano Ronaldo's four-year reign as UEFA Champions League season top scorer looked as good as over going into the quarter-finals. But five goals across the two legs against Bayern München and a hat-trick at home to Atlético Madrid in the semi-finals put him right back in contention. He now needs just one in the final against Juventus in Cardiff to match the 11-goal haul of Barcelona's Lionel Messi.
Ronaldo had mustered two goals from his first eight outings of this continental campaign, and ahead of the quarter-finals he was nine adrift of frontrunner Messi. Yet a sensational return to scoring form promptly made him the first man to net 100 goals in European competition, and then the first to hit 100 in the UEFA Champions League, putting his great rival from Barcelona back in his sights. He has even now matched Messi's record of seven UEFA Champions League hat-tricks.
Champions League: Firms pitch future football technology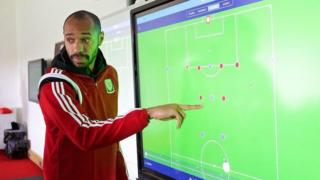 Ten start-up companies will pitch to global sports and tech brands in Cardiff for their football innovations to become a reality.
Representatives from Uefa, Barcelona, Adidas, Amazon and Microsoft will hear bids at the Hype Foundation event.
Ideas include nano-technology in shirts to measure a player's blood pressure.
The winner will go to Saturday's Champions League final and attend a special workshop at Uefa headquarters in Switzerland.
Cardiff University is partnering the Hype Foundation for the event at the university's business school.
Amir Raveh, chief executive of Hype, said: "We've had a huge number of start-ups applying with great innovations including wearable tech, analytics, fan engagement and broadcasting.
"It's a fitting warm-up for the Uefa Champions League final."
Bernd Wahler, a former chief marketing officer for Adidas and and ex-president of German club VfB Stuttgart, is leading the judging panel.
"The quality of the start-ups is outstanding," he said. "We all want to maintain the beauty of the fascinating game and at the same time welcome meaningful and exciting innovations.
"That's what this event is all about – showing the world the future of football."
A similar event ran for the 2016 Rio Olympics.
Here, AFP Sports looks at five key clashes that will have a major impact on who comes out on top:
Cristiano Ronaldo v Leonardo Bonucci Ronaldo by his own admission has never been fitter, fresher or in better form at the end of a season as he is now. The Portuguese has scored 14 goals in his last nine appearances, including hat-tricks against Bayern Munich and Atletico Madrid in the quarter and semi-finals respectively. However, Ronaldo is now faced with the meanest defence in the Champions League led by one of the world's best in Bonucci. Along with Italian international teammates Giorgio Chiellini and Gianluigi Buffon, Bonucci kept Barcelona's fabled strikeforce of Lionel Messi, Luis Suarez and Neymar scoreless over 180 minutes in the quarter-finals.
Sergio Ramos v Gonzalo Higuain Higuain faces his old side hoping to dispell his reputation as a big game bottler and justify Juventus's 90 million euro splash on the Argentine last summer. A poor return on the Champions League stages was what led to Higuain being sold by Madrid to Napoli in 2013. And he missed big chances to cost Argentina dear in the finals of the 2014 World Cup and the 2015 and 2016 Copa America. Ramos, by contrast, is very much the man for the big occasion. He is the only defender to have scored in two Champions League finals having netted against Atletico in 2014 and 2016.
Marcelo v Dani Alves Similar in style and personality, these two Brazilian full-backs will bomb forward at every opportunity to try and expose the other's defensive shortcomings. No active player has beaten Madrid more than Alves's 22 victories during his time with Barcelona and Sevilla. At 34 he has been reborn in his debut season with the Vecchia Signora, scoring a sensational volley and providing Juventus's other three goals in their semi-final win over Monaco. Marcelo's importance to Madrid is underlined by the fact his supreme energy levels allow him to often cover the whole left wing to himself as Ronaldo drifts inside.
Casemiro v Paulo Dybala Dybala enhanced his burgeoning reputation and increased comparisons with Messi with a two-goal blitz inside the first 22 minutes from which Barca never recovered in the quarters. However, finding space between the defence and midfield is a far trickier task against Madrid thanks to Casemiro's presence. The Brazilian can often be overzealous with his tough tackling, though, and could walk a fine line against the fleet-footed Dybala.
Luka Modric v Miralem Pjanic With so much attacking talent on both sides, Modric and Pjanic will be tasked with providing the ammunition as the creative hubs in midfield. After a slow start to the season, Pjanic has ensured Paul Pogba hasn't been missed in Turin despite Juventus receiving a world record fee for the Frenchman. Casemiro's presence at the base of the midfield gives Modric more freedom to roam forward and with the likes of Isco, Ronaldo and Karim Benzema to aim for, Juventus can't afford to give the Croatian any space.