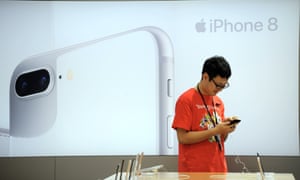 As the iPhone 8 goes on sale, questions remain over the demand for Apple's latest offering following smaller crowds outside stores and a muted customer reaction.
The iPhone 8 and 8 Plus, two of the three new iPhones in Apple's 2017 lineup, went on sale around the world, starting in Australia where hundreds of people have usually gathered outside Apple's Sydney city store for previous launches. But instead of queues winding down the street there were fewer than 30 people lining up before the store opened on Friday.
A similar level of interest was seen across Asia and in Europe. Queues outside Apple's Regent Street store in London were modest compared to previous standards, with only a handful of diehard fans gathered, while only two teenagers gathered outside Buchanan Street Apple store in Glasgow.
Mentions of iPhone 8 on popular website Weibo, considered China's Twitter and an indicator of consumer interest, were fewer than before the previous two launches. A similar level of interest is also expected in the US when stores open on Friday.
For the iPhone 8, the question remains whether buyers that simply must have the latest iPhone – a status symbol for many – will instead wait for the £999 iPhone X to be released in November, which was announced alongside the iPhone 8 and 8 Plus and overshadows today's sales.
Francisco Jeronimo, European mobile devices research director for IDC, said: "One thing is for sure, the super cycle is here and there will a high number of consumers looking to replace their smartphones, because people who bought the larger screen two years ago with the iPhone 6S Plus are looking for a replacement at the end of their two-year contract.
"The question is whether they will buy the iPhone 8 or wait for the iPhone X, as we don't know how long it will take Apple to deliver the X, or whether volume supply is ready by Christmas."
Mobile retailers in the UK are seeing lower than expected day-one and preorder sales of the iPhone 8, markedly down versus last year's iPhone 7, according to well-placed industry sources. Most are putting the decrease in demand down to a greater than expected impact of the iPhone X, which goes up for preorder on 27 October.
The muted interest has lead some to question whether sales for the iPhone 8 will fail to live up to that set by its predecessors. According to Rosenblatt Securities analyst Jun Zhang, US pre-order volumes for the iPhone 8 were down on last year's for the iPhone 7, while Chinese demand was even lower. Hong Kong-based resellers also said low demand for the iPhone 8 has forced prices down to retail prices or below.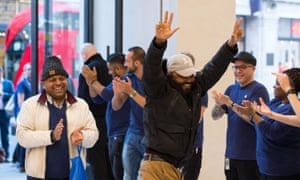 However, last year's iPhone 7 generated smaller queues and less buzz on its release partly because of Apple's shift in focus, pushing buyers to online orders that are shipped to arrive on the day of release rather than queuing up at the doors of stores overnight.
Relatively poor reviews of the iPhone 8 also drove down shares of the company to near two-month lows of $152.75 on Thursday ahead of the smartphone's release, as investors worried pre-orders for the device had come in well below previous launches.
While the iPhone 8 is extremely similar in design to previous generations of the device that has remained consistent since 2014's iPhone 6, the iPhone X features Apple's most radical design change since its flagship smartphone's inception in 2007. The iPhone X drops the iPhone's home button for the first time, as well as the fingerprint scanner, has facial recognition and an eye-catching all-screen front.
Jeronimo said: "When you have a device that is already highly priced, consumers typically prefer to wait for the best one, rather than buy one that is brand new but not the latest because Apple decided to launch the iPhone X.
Source theguardian.com