Monaco, Juventus, snubs in India and snubs in Scotland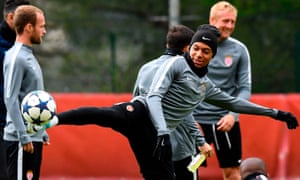 AN UNDERDOG'S PURPOSE
There is nothing more amazing than the Gazprom Big Cup, sponsored by Uefa. More than anything, it gives the football world an incredible sense of security and wellbeing; Gazprom are, after all, majority-owned by the Russian government, and there is no body in the world more devoted to integrity, fair play and rollocking good fun than the Russian government. Gosh, The Fiver is choking up here, though that might also be a consequence of light-headedness following a post-prandial balloon of Публичное Акционерное Общество. Either way, nice one Cyrillics.
The latest instalment of sport's most ethically pure competition sees Monaco take on Juventus. The rise of Monaco is a fairytale like no other, a tiny principality more interested in tax avoidance than football, whose football ground is so important that it was built on top of car park, somehow producing a young, exciting football team; how on earth could it possibly have happened? Well, Monaco are majority-owned by Dmitry Rybolovlev, who bought a three-bed end-of-terrace there in 2010. Then, in 2011, he thought his daughter may as well own 66% of the local club, because why shouldn't she? Naturally, the remaining stake is held by the royal family, because why wouldn't it be?
So, how have Monaco got to here? Well, they've pursued a cunning yet altruistic strategy of muscling less wealthy clubs off their best young players, selling them at a huge profit, then starting again. And at the same time, Rybolovlev became great buddies with Jorge Mendes, another famed lover of the beautiful game. Why, it's the feelgood hit of the summer!
But to go any further in the competition, the plucky outsiders will have to beat the plucky underdogs. Juventus, as they're also known, are also known as The Old Lady, and have been champions of Italy 32 times, champions of Europe twice. And, most recently, they triumphed against all odds to reach the 2015 final; that's "odds" as in "what are the odds the most famous name in Italian football will find it fairly easy to return from a match-fixing scandal and still make loads of money, given that it remains the most famous name in Italian football and football is more awash with money than ever before". As such, their subsequent success has been an invigorating, restorative redemptive joy to warm the heart of your c0ckle, for we shall not see its like again. Hip-hip for soccer!
NEWS, BITS AND BOBS
Kick It Out have rightly called out Italy's football authorities after Pescara midfielder Sulley Muntari was banned for one game, having walked off the pitch against Cagliari in protest at being racially abused by members of the crowd. "The gutless failure to not take action by the Italian authorities should not be allowed to pass," read a statement. "It's unbelievable that Cagliari escaped punishment." Serie A's disciplinary suits said no action would be taken because "an approximate number of only 10" individuals were involved, not enough for a punishment under its rules.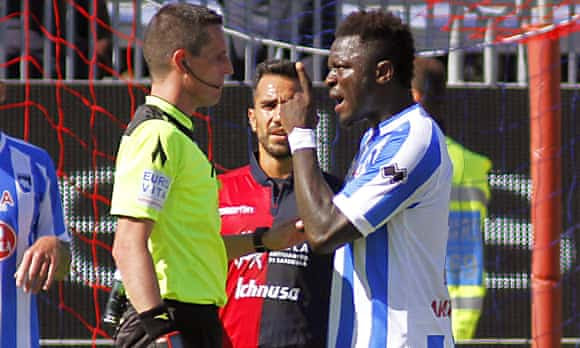 Everton have confirmed that Aaron Lennon is receiving treatment for a stress-related illness. The winger was taken to hospital on Sunday to be assessed after police officers assisted him on a busy road in Salford.
Francesco Totti will hang up his playing boots, or just hurl them on the floor somewhere, at the end of the season. "Francesco is Roma, I want to be as close to him as possible," cooed club tracksuit Monchi. "I'd love to learn even 1% of the huge amount that he knows."
Slaven Bilic's future at West Ham depends on their last two home games against Tottenham and Liverpool. So he'll be doing one soon, then.
Arsenal and Spurs are sniffing around Nice and Ivory Coast midfielder Jean Michaël Seri.
Port Vale have followed Norman Smurthwaite's resignation as chairman by appointing Michael Brown as manager.
And the right sulk on over there belongs to Queen's Celtic boss Brendan Rodgers, who can't get his noggin round Scott Brown failing to make the PFA Scotland Player of the Year shortlist. "I look at [N'Golo] Kanté down south as a central midfield player and I think he got the player of the year award down there and I certainly think that Scott Brown is worthy of at least being a nominee," he trilled. "He is the most influential player in Scottish football."