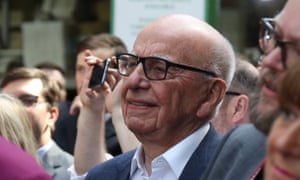 Labour politicians told ministers "not to do a grubby deal with the Murdochs" in order to push through 21st Century Fox's £11.7bn takeover of Sky after Ofcom warned there were serious concerns that any takeover would hand the family increased influence over news and politics in the UK .
The MPs' intervention came in response to the culture secretary telling the Commons on Thursday that she was "minded" to accept the regulator's conclusion that the Competition and Markets Authority should conduct a full six-month examination of the deal.
Ofcom, Karen Bradley added, had concluded that the extra inquiry was required because the Murdoch family would have "material influence" as a result of buying Sky – but held the door open for potential negotiations that would avoid a full inquiry.
The minister said that Fox, which is controlled by Rupert Murdoch and his sons Lachlan and James, now has until 14 July to offer concessions to Bradley in an attempt to prevent the television mega merger being referred for further scrutiny. The Murdochs had offered to fund a Sky News service for five years, with a separate editorial board, but this had been rejected by Bradley.
Ed Miliband, the former Labour leader, told Bradley that she should not accept any undertakings in lieu of a full competition inquiry. He said: "Can I urge the secretary of state not to do a grubby deal with the Murdochs, because we know their history, they break every undertaking they make, from the Times to the Wall Street Journal."
Tom Watson, the deputy Labour leader and shadow culture secretary, said that Bradley's announcement was part of a practised routine that he predicted would lead to the government approving the deal after Fox offers concessions. "Nothing about this decision is a surprise. It's the old playbook. The secretary of state has known all along what she wants to end up doing, but she has to follow the established dance steps," he said.
Shares in Sky rose more than 3% after Bradley's announcement as financial analysts claimed Fox could swiftly agree concessions with the government to secure the controversial takeover. Fox already owns 39% of Sky. Thomas Singlehurst, a media analyst at investment bank Citigroup, said: "Ultimately we think the likelihood not only of deal completion, but on a reasonable timeframe – one to three months – has increased."
Bradley told MPs the warning by Ofcom that media plurality would be reduced was "unambiguous" and "persuasive". Ofcom's report shows that if the deal goes ahead Murdoch businesses would have the third largest total reach of any news provider – lower only than the BBC and ITN – and would uniquely operate across television, radio, newspapers and online.
"Ofcom's report states that the proposed transaction would give the Murdoch family trust material influence over news providers with a significant presence across all key platforms," she said.
However, John Whittingdale, Bradley's Conservative predecessor as culture secretary, praised her for the "scrupulous" handling of the takeover and played down concerns about the impact of media plurality, suggesting that the deal should go through. "When it comes to plurality, it is increasingly obvious – and the general election bore this out – that the printed press are of a waning influence and the real media giants today are Google and the social media giants," he said.
Ofcom dismissed an assertion by Fox that its media presence has been diluted with media plurality flourishing from the rise of digital rivals, such as news distributors Google and Facebook and new outlets, such as Vice, BuzzFeed and the Huffington Post.
In fact, Ofcom said that Murdoch's news media is disproportionately benefiting from digital media compared to rivals. "Our analysis suggests that Sky News and The Sun may receive a disproportionate amount of consumption through intermediaries, relative to their reach and share of reference," said Ofcom. "This analysis is supported by data from Sky and News Corp, which show high levels of consumption of their content through third-party platforms, for example Facebook Instant Articles or Snapchat."
Ofcom said in its report that the proposals to fund a Sky-branded news service for five years would mitigate concerns about media plurality and were more robust than undertakings offered by Murdoch when he bought the Times and Sunday Times in 1981 and the Wall Street Journal in 2007. But it added they could be strengthened.
Fox said it was disappointed by Bradley's decision not to accept the undertakings and will "make representations" to her about the decision and Ofcom's report. The company added: "While we welcome the secretary of state's decision on broadcasting standards, we are disappointed that she does not accept Ofcom's recommendation stated in its report that 'the proposed undertakings offered by Fox to maintain the editorial independence of Sky News mitigate the media plurality concerns'."
However, the Murdochs did clear one major hurdle in their attempt to buy Sky after Ofcom concluded they were "fit and proper" owners of Sky's UK broadcasting licence.
The regulator said that phone hacking at the News of the World and allegations of sexual and racial harassment at Fox News had amounted to significant corporate failure at the Murdochs companies – but this was not enough to prevent them from holding a broadcasting licence.
Ofcom found there was no "clear evidence" that senior executives at Fox were aware of sexual misconduct before 2016, and that Fox and Sky's compliance record with the broadcasting code was in line with other broadcasters.
The Murdoch's previous bid for Sky collapsed in 2011 when News Corporation was forced to withdraw its interest amid public furore over phone hacking at the News of the World.
The company bidding this time is 21st Century Fox, which owns the 20th Century Fox film studio and the Fox TV network. It was carved out of Murdoch's News Corporation empire in the wake of the phone-hacking scandal.
Murdoch's remaining newspapers, including the Sun and the Times, are now part of a separate company, News Corp, although both it and 21st Century Fox are still controlled by the media mogul and his family.
Hacked Off, which represents phone hacking victims, condemned the decision not to refer the bid to the CMA on the grounds of broadcasting standards and said the Murdochs have an "appalling record of corporate governance failures".
Evan Harris, joint executive director of Hacked Off, said: "Karen Bradley should not waste time on 'undertakings'. Undertakings in lieu from the Murdochs are not worth the paper they are written on, and cannot possibly be considered by the government as a remedy for Ofcom's concerns."
Source Theguardian