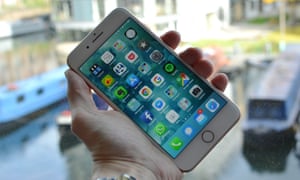 The iPhone 8 Plus might have some fancy camera tricks up its sleeve, but is it really worth buying its bulky frame ahead of its sleeker rivals or the potential of the iPhone X?
Like its smaller non-Plus sibling, the design of the iPhone 8 Plus has barely changed since it was introduced in 2014 with the iPhone 6 Plus, but it has aged worse. The iPhone 6 Plus was thin but relatively wide and tall for a smartphone with a 5.5in screen in 2014, with big bezels and a chunky top and bottom.
Dated design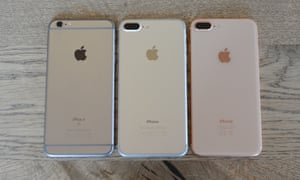 Four years on the design of the iPhone 8 Plus makes it look incredibly dated, like a cheap iPhone knock off. It's a feeling that's accentuated by the new pinky gold colour, which reminds me of my grandma's hideous bathroom suite – the kind you have to replace just to sell a house. At least it comes in black and silver to
The iPhone 8 Plus is fractions of a millimetre larger in every direction than the iPhone 7 Plus. It's 14g heavier than the iPhone 7 Plus, 10g heavier than the iPhone 6S Plus and 30g heavier than the iPhone 6 Plus. At a total weight of 202g the iPhone 8 Plus feels pretty heavy, with only the Samsung Galaxy Note 8 with its colossal 6.3in screen coming anywhere near at 195g. Most rivals weigh around 160g.
The biggest issue is the iPhone 8 Plus is very wide and rounded for a device with what is a relatively small screen. At 78.1mm wide, it's a whole 10mm wider than the Samsung Galaxy S8 with a 5.8in screen and it's even 3.3mm wider than the giant Note 8.
The wider a phone, the harder it is to hold with one hand. No matter how much you might consider the 8 Plus a two-hand device, at some point you will have to use it with one hand and that's when people tend to drop their smartphones.
The big change for the iPhone 8 Plus is that its back is made of glass, which inevitably makes it more fragile. Despite the glass being more grippy in the hand, and more slippy on the arm of a sofa, most will put it in a case – at which point it's very difficult to tell that it's a brand new model.
The 5.5in screen is probably the best-looking LCD I've seen and now has Apple's True Tone system from the iPad that alters the colours of the display based on the ambient light.
Specifications
Screen: 5.5in LCD 1920×1080 (401ppi)
Processor: Apple A11 Bionic
RAM: 3GB of RAM
Storage: 64/256GB
Operating system: iOS 11
Camera: Dual 12MP rear cameras, 7MP front-facing camera
Connectivity: LTE, Wi-Fiac, NFC, Bluetooth 5, Lightning and GPS
Dimensions: 158.4 x 78.1 x 7.5mm
Weight: 202g
Read more iPhone 8 Plus review: still massive – but not in a good way