Students at Nuhu Bamalli Polytechnic in Zaria who have been given merit-based scholarships to cover their tuition costs through graduation are listed by the Kaduna State Scholarship and Loans Board.
These students do not need to reapply if they have already submitted an application for a merit-based award on the board's website. To access their funding, students on this list who have not yet applied should do so right now at scholarship.kdsg.gov.ng.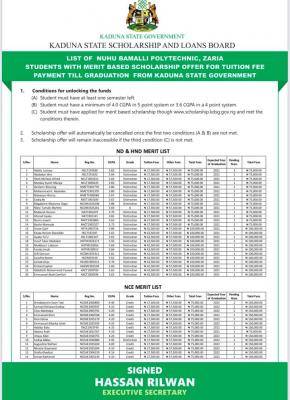 Students who are not on this list but have GPAs of at least 4.0 for NCE programs and 3.6 for ND and HND programs should still apply online. Applications will be processed following verification from the institution.
Students from departments not on the list who have already submitted applications on the Board's portal will begin to have their applications processed on August 31, 2022.